Description
#韓國專櫃正品代購
✅ 吊牌和鞋盒都有⁣⁣⁣⁣⁣⁣⁣⁣⁣⁣⁣⁣⁣
EXCELSIOR餅乾鞋 現在越來越難買咯
(據說是要慢慢退出市場 所以一直都在清倉)
賣完就是完全斷貨買不到咯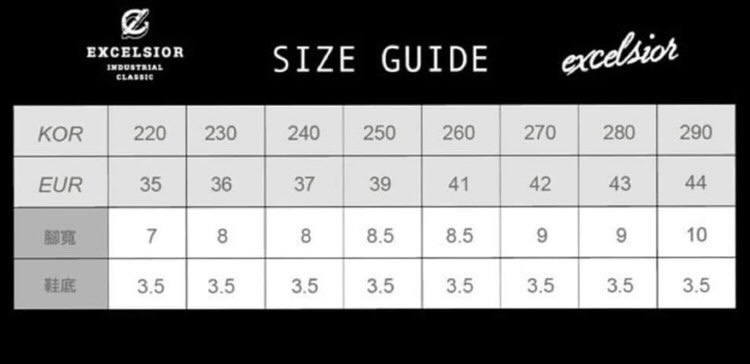 Shipping Details
預購
預計到貨時效 4個星期 (不包括週末和假期)
如果物流延誤 有可能會比預計的慢一些
有些產品會有特別的發貨日期 日期都會寫明在詳情哦
現貨
下單付款後1-2天內發貨 (不包括週末和假期)
運費
產品價錢均已包括國際運費
本地運費则需要另付 将會顯示在結賬頁面哦
📦 砂拉越 RM7
總數達RM200以上 — 免郵
📦 西馬/沙巴 RM15起
首1KG RM15 續0.5KG RM3 — 不包郵
Preorders
The estimated arrival time is around 4 weeks (excludes weekends and public holidays).
It can be later than estimated if there is any unexpected delay on logistics.
Items with specific posting date will be shipped later and all will be stated clearly at the descriptions
Ready Stocks
Items will be posted out within 1-2 days after payment (except weekend/holiday)
Shipping Fees
📦 Sarawak RM7
Above RM200 — Free shipping
📦 WM/Sabah starting from RM15
First 1KG RM15 | Next 0.5KG RM3 — No free shipping
All the price listed included international shipping fees (unless stated)
The final shipping fees will be shown at the check out page
Return & Refund Policy
允許更改或退款的情形如下
• 眼影和易碎類物品在本地郵寄中導致的碎裂
• 寄錯產品
• 在收到包裹後2天內通知 並附圖片證明
[ 請到 @peachmydayys.kr IG Inbox 通知桃子 桃子會依據碎裂情況考量是否給予退換/退款服務]
• 產品完貨/斷貨 桃子會自行通知顧客進行退款/更改
不允許更改或退款的情形如下
• 在收到包裹後超過2天才來通知
• 沒有圖片證明
• 個人原因 (例如 錢不夠用, 不適合自己, 好像沒有想象中的好, 不想買了 等)
• 外盒子損壞 鑒於國際運輸 產品盒子難免會被壓擠
• 原產品微小瑕疵
Peach My Days 是韓國代購 主要作為一個管道/買手 讓大家能夠不用出門也能買到韓國產品 所以對於任何隨意退款/退換的請求 恕不受理 感恩!
Return or refund is possible
• severe damage, in the case of skin care leakage or broken eyeshadow and etc.
• wrong items delivered
• within 2 days upon received with photograph proof
[ Please contact us at @peachmydayys.kr IG inbox for return or refund report. ]
• product out of stock or discontinued
Return or refund is not possible
• after 2 days upon received
• request without photograph proof
• personal reason (e.g the product is not suitable, the product is not as nice as expected, I don't want to buy already and etc.)
• minor defects on outer packaging as it is hardly guaranteed for overseas shipping
• original defects from product's brand company
Peach My Days is a Korea Purchasing Agent. We play an intermediary role to bring in authentic Korea products directly from Korea for everyone. Hence, random return or refund requests according to your own will are not acceptable.